Otto Schulz
and Firma Boet
Otto Schulz, 'Paradise' Cabinet, 1940s, Limed oak, leatherette, 'Bo-point decoration' with brass nails in the motif of 'Adam and Eve', designed by Gunnar Erik Ström, Produced by Boet.
The German-Swedish interior designer and architect Otto Schulz and his company Boet, have played an important role in Swedish Design history. When he moved to Sweden in 1907, he worked at Selander & Söner; a carpentry firm based in Gothenburg that was operated by brothers Axel Fredrik and Frans Theoodor Selander. After three years, he founded his own company. Initially his focus was on the design of ship interiors, however in 1917 this changed when Schulz was commissioned to designed the Bräutigams Konditori. This prestigious patisserie in Gothenburg was a meeting place for society in the first half of the 20th century, and allowed Schulz to present his work and expertise to a wider audience. Three years later, in 1920, he established the Boet department store.

Otto Schulz, Sofa, 1940s, Stained beech with wool Savak upholstery, Produced by Boet.
Otto Schulz, 'Paradise' Cabinet, 1940s, Limed oak, leatherette, 'Bo-point decoration' with brass nails in the motif of 'Adam and Eve', designed by Gunnar Erik Ström, Produced by Boet.
Firma Boet was located at the Avenyn Kristinelundsgatan, showcasing their self-designed furniture. Customers could have an entire bespoke interior tailored and manufactured to their individual needs. The shop was subsidized with an eponymous magazine, which was published between 1927 and 1938. The magazine published its own furniture and product ranges, as well as international design. During its existence, Boet patented three distinct manufacturing techniques; Bopoint, which was a pearl nail decoration on artificial leather, Bosaik, a mosaic coating technique that would withstand spills, and Botarsia, a pattern technique using brass pins. In addition, Boet under the direction of Otto Schulz, designed complete interiors for public spaces, including the Meeth's tea room, Grand Bazaar, and Bräutigam konditori in Gothenburg.
Following the 1930 Stockholm Exhibition, Boet introduced their so-called Bo-furniture line. Furniture pieces were modular and could be used and combined in a way that suited the user. The modular sofa is designed and introduced in 1935. Bo-furniture could be purchased in three different styles, 'Renaissance', 'Modern with decorative embellishment', or 'completely plain'. The original upholstery ranges from single coloured to colour-blocked models, in modern hues of green, blue and red. The pieces could be combined with one another, in order to fulfil the customer's needs. In the sketches produced for the 1935-36 collection illustrate several possible arrangements for the Bo-sofa.
Otto Schulz, Modular 'Bo-sofa', 1930s, Velvet upholstery, painted metal, nickel and wooden legs, Produced by Boet.
Otto Schulz, Table, 1930s, Inlaid elm and rosewood top, nickel metal base, Produced by Boet.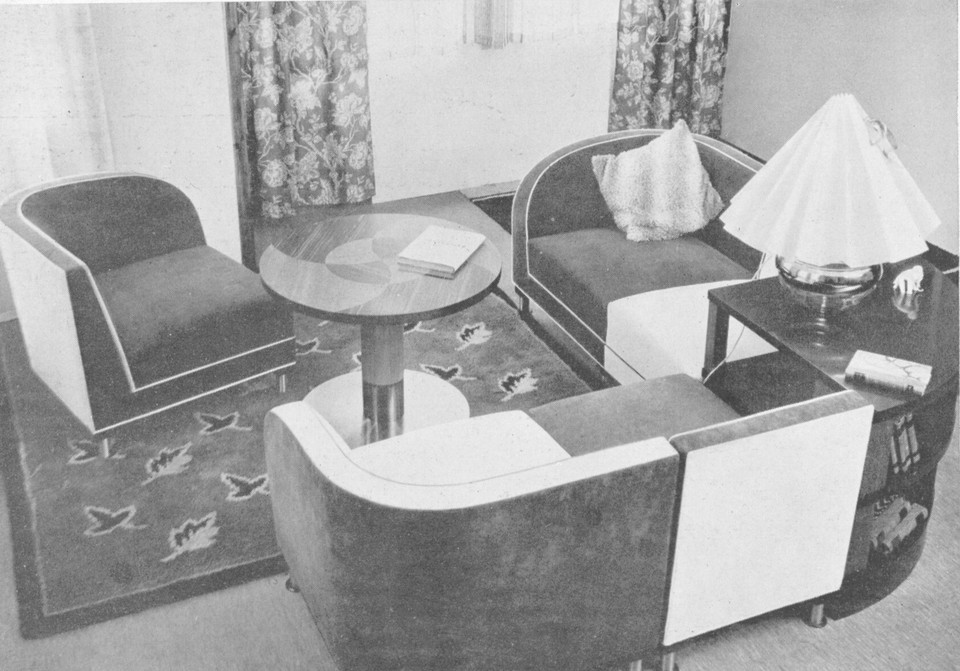 'Boet' Magazine, 1930s, Including Bo-sofa and table.
In dialogue with his customer, Boet and Otto Schulz shaped the interiors of both the working class and the bourgeois for approximately 30 years. Unique and advanced pieces were completed, one of which a rare cabinet, depicting the Swedish landscape of Gothenburg. The cabinet was made as a commission for clerk Gösta Ohlsson, and executed in a skilful intarsia pattern. The intarsia technique was often used by Schulz, repeatedly in animal and nature patterns. Another example of such is the cabinet which was introduced in Boet Magazine 1935, with details of inlayed wooden cacti.
In 1950, Boet closed its doors, after which the pieces have become collectors' items. The craftsmanship, modernistic, and functional aesthetic of Boet and Otto Schulz pieces prove to be contemporary till today.
Otto Schulz, Cabinet, 1930s, Birch and black lacquer, with inlay of abstract cactus plants in different woods, Produced by Boet.
Otto Schulz, Rare Cabinet, 1945, Highly detailed various inlaid woods depicting the Swedish landscape of Gothenburg, Produced by Boet.
Sketch by Otto Schulz for Boet, Rare Cabinet with highly detailed landscape of Gothenburg, Röhsska Museet.